Tuesday, June 5, 2007
2:49 PM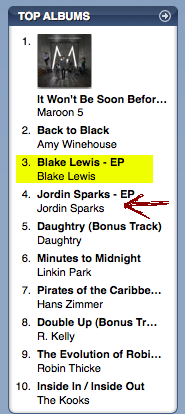 Now his EP has passed Jordin's! Well, actually, her EP just kinda flip-flopped with Amy Winehouse's Back to Black, but still, he is ahead of her!
Bad Name is currently at #10 on the singles chart, whereas This is My Now is at #13. I expected their songs to start slipping sooner or later, so this is no surprise. Though, it is nice to know that Blake's song, despite being a cover of a song, is holding stronger than Jordin's, which is a brand new song. That, and that his EP has 3976 reviews whereas Jordin's has 2309.
Basically, what I get from all of this is that while Jordin may have rose ahead in the beginning because of all the buzz of winning Idol, Blake has more longevity because he interests people other than just Idol fans because of his total awesomeness. Well, that's what I'd guess.
Cred- Blaker Girls LJ
0 comments
About Blake
Full Name: Blake Colin Lewis


Age: 25


Hometown: Bothell, WA


Famous For: Being Original, Beat Boxing, & Those SEXY Plaid Pants!




Tour Dates

July 6 - Sunrise, FL
July 7 - Tampa, FL
July 8 - Jacksonville, FL
July 10 - Greenville, SC
July 11 - Nashville, TN
July 12 - Birmingham, AL
July 13 - N. Little Rock, AR
July 15 - Houston, TX
July 16 - San Antonio, TX
July 18 - Glendale, AZ
July 19 - San Diego, CA
July 20 - Fresno, CA
July 22 - Anaheim, CA
July 23 - Los Angeles, CA
July 24 - San Jose, CA
July 25 - Sacramento, CA
July 27 - Tacoma, WA
July 28 - Portland, OR
July 30 - Nampa, ID
July 31 - Salt Lake City, UT


American Idol Song List

"This Is My Now"
"She Will Be Loved"
"When I Get You Alone"
"This Love"
"Roxanne"
"This Is Where I Came In"
"You Should Be Dancing"
"You Give Love A Bad Name"
"Imagine"
"When The Stars Go Blue"
"Time of the Seasons"
"I Need To Know"
"Mack the Knife"
"Love Song"
"You Keep Me Hanging On"
"All Mixed Up"
"Virtual Insanity"
"Somewhere Only We Know"


Eye Candy




Blog Entries

May 2007 l June 2007 l



Sites To Check Out

American Idol
Home
Laguna Beach Hookup
Barbie Material Myspace Layouts


Blake Music





Hits