Thursday, May 31, 2007
9:18 PM
Blake on the Today Show - 5/31/07

Part 1:



Part 2:





Part 3:




Thanks to this fan
0 comments
7:08 PM
Blake on the Mike & Juliet Show





He's so cute.
0 comments
7:00 PM
Blake & Jordin - Fox News Post Idol Finale
0 comments
6:52 PM
Blake on CBS News- Interview



The losers didn't leave a embeded url code so here's the link

http://www.youtube.com/watch?v=APHTiaQFRKc



Blake on CBS News- Performance



http://www.youtube.com/watch?v=paOVAPWbLsg

0 comments
6:50 PM

Fan video from Today Show with Blake & Jordin
0 comments
4:40 PM
I was bored...

I'm going to try and post the video of Blake on the Today Show once I find the video on youtube or gofish.
0 comments
11:17 AM
25 Images from Blake on the Today Show - 5/31/07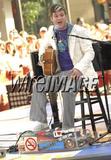 0 comments
Wednesday, May 30, 2007
7:07 PM
Blake Lewis w/ Jordin on TRL - 5/30/07
0 comments
9:42 AM
Blake Lewis on Regis & Kelly
0 comments
Tuesday, May 29, 2007
11:11 PM
Scans from Entertainment Weekly Magazine:
Creeedits
0 comments
10:59 PM
The Finalists: Blake Lewis
Runner-up
Hometown: Bothell, WA
Age: 25
Let the teeny-belter have the title. For all intents and purposes, Blake Lewis won American Idol a month ago. With his audacious performance of "You Give Love A Bad Name," the 25-year-old redefined Idol, dragging the show into another era--one that recognizes risk and innovation, even if it doesn't always reward them. Which is fine, because what kind of musical rebel wants to win a mass-consumption popularity contest anyway?
Not that Blake was always a contender. From the moment we spotted him at the Seattle auditions he seemed--how to put this delicately?--an unlikely Idol. On second thought, the heck with delicate: The dude was short, average-to-cute, and seriously goofy (he did, after all, go by the stage name "BShorty"). To top it off, his fame-claiming skill--beatboxing--could easily have made him the Vanilla Ice of the competition. (Don't worry. He's in on the joke: "I poke fun at myself. I can't take myself seriously all the time.") Fact is, he scraped through the auditions singing Seal's "Crazy" mainly on the strength of Paula's cheerleading.
Then there was Hollywood Week, certain death to all one-trick ponies. But Blake not only galloped through, he did so using his one trick, serving as the backseat for his group's rendition of "How Deep Is Your Love." And then Blake Lewis did something truly shocking--he sang. Surprise! Turns out, he has a great voice--buttery and smooth. It's a crooner's tenor that, with edgy song choices (like Keane's "Somewhere Only We Know"), sounds surprisingly contemporary.
Not that Blake was perfect. When you're the zig-when-they-zag sort, you're bound to make a few missteps. Like that heinous tuxedo T-shirt he sported during Barry Gibb Week--in fact, everything he did during Barry Gibb Week. But then, Blake--known in the Idol camp for sneaking out past curfew--always was controversial. From his blond-to-brunet transformation, to the confident-or-cocky? debate, to picking songs by obscure artists, the singer divided fans and judges alike.
All of which was nothing compared to Blake's boldest Idol surprise. After five weeks of beatbox abstinence, BShorty made a triumphant return during Bon Jovi Week. "There will be half the audience who absolutely hated it and half the audience will love it," said Simon, in perfect summary. "I think you're a very brave young man."
That's what differentiates Blake from every other Idol competitor--that word: brave. It's what lets him rock a 311 single with the group's singer in the house, and tell Jon Bon Jvi that he's going to bmp-shka-bmp through 16 measures of one of the band's best-known songs. It's also, ultimately, what may have kept Blake from winning Idol--although "This Is My Now," the sappy, ultra-traditional song that was written for the finale, did him no favors. And alas, rearranging the number wasn't an option. "[When I first heard it] I was like, really? All right. I gotta sing this song, shake hands with it, make friends with it. And hopefully perform it well. It's definitely not my style. That track would never be on my album." Even the woman who should be Blake's biggest fan had trouble mustering enthusiasm. "Personally, I didn't care for it," says Blake's mother, Dinah. "But Jordin made the song hers."
Innovators rarely reap the benefits of their boldness (see: Bo Bice paving the way for Chris Daughtry). But we're hopeful about the kind of album Blake will deliver, free from random musical restrictions like "British Invasion Week." As Blake begins working with his idol, 311's Nick Hexum, the door is wide open, and he can't wait to step--or, perhaps, moonwalk--right through it.
-- Creds to EW --
0 comments
10:54 PM
Blake @ American Idol Season 6 Afterparty
CREDS
0 comments
10:27 PM
CafePress makes Blake inspired shirts!

Getcha CLICK on!

CLICK TO ORDER
0 comments
6:23 PM
OMFG THIS IS THE FUNNIEST THING I THINK I HAVE EVER SEEN!

Blake as Jimmie Walker Blue

...How can you not love him?
0 comments
1:36 PM
Blake Lewis: Idol's Next Biggest Loser
American Idol runner-up Blake Lewis is all smiles as he poses with his fans and carries his own luggage into his NYC hotel on Monday.
"I'm kind of glad I didn't win for, like, contractual reasons," Blake told People. "I think if you're first you might have to come back for like three years or something."
Hot on the heels of Oscar winner Jennifer Hudson and successful rocker Chris Daughtry, Blake is on the fast track to becoming Idol's next successful "loser."
"I think we suffer from Jennifer Hudson- and Chris Daughtry-itis, which is people who didn't win getting great careers and now a lot of the contestants believed it absolutely doesn't matter," Simon Cowell has told Entertainment Weekly. "Sometimes there's part of me thinking, 'You genuinely couldn't care less what we're got to say; everything's going your own way now.'"
Will Blake Lewis surpass Jordin Sparks in record sales… and even fame?
13 Images:


Credit
0 comments