Wednesday, June 13, 2007
10:45 AM
Hot right? Watch the video...
Click to watch Blake on People's Hottest Bachelors of 2007
4 comments
Monday, June 11, 2007
12:54 PM
Blake performing for the kids






Awwwwwwwwww How cute
0 comments
12:46 PM
Jordin and Blake react to 'Idol' results
0 comments
12:39 PM
Blake Lewis performs 1 at AriSawkaDoria ASD CD Release Show

0 comments
12:33 PM
Blake Lewis on Idolatry at EW
0 comments
Thursday, June 7, 2007
4:22 PM
Blake will be on THE VIEW on monday!!!! i've heard everyone at the view is SUPER excited to see him and meet him in person; they're all such big fans. be sure to check it out!


Look out for video coming soon!
0 comments
4:20 PM
Blake Lewis Thinks Outside the Box With Us
He didn't end up winning American Idol, but second place is suiting 25-year-old Bothell, Wash., native Blake Lewis just fine. Here, America's favorite beatboxer gets candid with Us to reveal his thoughts on breaking Idol rules, winning fans' hearts, and clubbing with Lindsay and Paris.
Usmagazine.com: You finished second on May 23, but your 866-IDOLS voting line remained open as of last week. Is it too late to demand a recount?
Blake Lewis: No recount. Second place is the first place to be.
Us: Simon and Co. first heard you sing in your hometown of Seattle. What about the city or music scene there has shaped you as a performer?
BL: There's so much. I could name 10 bands right now that should be signed to a major label – The Mob Law, Doxology – it really depends on what you're looking for. I'm very fortunate I got on this show and I try and rep my homies as much as possible, wearing my favorite bands' t-shirts from Seattle. I'm going home at the end of the week and my friends are playing at The High Dive and Neumos – my favorite venues.
Us: Another hometown cause close to your heart is Seattle Children's Hospital, for which you are raising cancer research funds in honor of two friends affected by lymphoma. How do you plan to expand your outreach efforts?
BL: Just keep doing it. Anything I can do to help with a greater cause is awesome and seeing a smile on kids' faces is priceless. I visited a hospital here this week and taught the kids how to beatbox. It's just so great to see little kids that are into it, because if I had seen that when I was a kid that age, who knows where I'd be now.
Us: Now that you are "Blake Lewis from American Idol," rumors must be swirling about your public and private life. What outlandish rumors have you laughing?
BL: You know, I haven't even heard any. I love [how I'm referred to as] "The Rebel." It's so funny. I didn't stay out past curfew every night. It was probably more like every other night. [Laughs]
Us: Weren't you out with Lindsay Lohan once at Les Deux?
BL: [Chuckles] I was never there with her. People get stuff out of context. I was at that club many times and she's always there, Paris is always somewhere. But if she's there, I'm like [sarcastically] "woopie, cool, good for her." I'm not a fan. I'm not going to lie about it. If they're not nice to you on the first impression, they're probably not going to be nice to you on the second. I choose not to hang out with those people.
Us: But you did spend plenty of time with your roommates Phil Stacey and Chris Richardson.
BL: I had the greatest time with Phil and Chris. Chris and I hung out all the time - 18 hours a day and then we'd sleep and do it again. We got through the show with each other.
Us: So, Cassanova, word on the street is that you hold the record for the most 'marry me' signs on Idol. Any chance you'll settle down with your own family someday?
BL: In the next 5-10 years. I'm focused on my career and have to be selfish right now. I really want to get this album out and go on tour. Honestly, I don't think I'll allow myself to be open to [a long-term relationship] for maybe 3-6 years. If true love comes into play, though, you can't stop that.
Us: You say good art inspires you, and you translate that through your many tattoos. Any chance you'll pop up on Miami Ink now that you're so well-versed in reality TV?
BL: Maybe "L.A. Ink" if it comes into play. I don't know about Miami Ink. I definitely want to get my whole entire back tattooed. I've been drawing a collage piece for two years. I would love it if [celebrity artist] Kat Von D wanted to do a piece on me.
Us: Viewers have also come to love your eclectic sense of style. Any plans to add "clothing designer" to your resume?
BL: I don't know how to sew yet. I bought all the materials and then American Idol happened. I hung out with [celebrity designer] Ashton Michael last night and he's going to hopefully teach me how to sew one day - when I have time. Timing was right and I got on Idol. Now hopefully timing will be right and I'll tour for a while. It's all timing for everything.
0 comments
Wednesday, June 6, 2007
4:25 PM
Blake on Stranger Office
0 comments
11:17 AM
Jordin Sparks
may have won American Idol, but
Blake Lewis
is definitely coming out on top in the U.S. singles charts.
His cover of Bon Jovi's You Give Love A Bad Name just cracked the top ten this week, coming in at #9.

Meanwhile, Sparks' This Is My Now lingers at #14.

She may have a bigger voice, but Blake's got that "it" factor with the girls and - especially - the boys.
This week's #1 song belongs to Rihanna with her highly infectious Umbrella.
Fergie climbs three spots to #3 with Big Girls Don't Cry.
And, Miz Amy Winehouse's Rehab jumps a whopping 25 spots, leaping from #55 to #30 this week.
Other gainers include Gwen Stefani's 4 in the Morning, which jumped from #65 to #56, and Nelly Furtado's All Good Things, which went from #93 to #68.
Congrats to all!
Creds to Perezhilton.com
0 comments
Tuesday, June 5, 2007
2:49 PM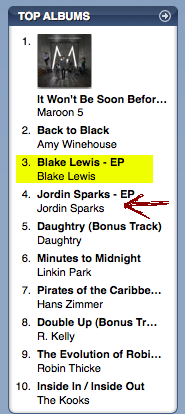 Now his EP has passed Jordin's! Well, actually, her EP just kinda flip-flopped with Amy Winehouse's Back to Black, but still, he is ahead of her!
Bad Name is currently at #10 on the singles chart, whereas This is My Now is at #13. I expected their songs to start slipping sooner or later, so this is no surprise. Though, it is nice to know that Blake's song, despite being a cover of a song, is holding stronger than Jordin's, which is a brand new song. That, and that his EP has 3976 reviews whereas Jordin's has 2309.
Basically, what I get from all of this is that while Jordin may have rose ahead in the beginning because of all the buzz of winning Idol, Blake has more longevity because he interests people other than just Idol fans because of his total awesomeness. Well, that's what I'd guess.
Cred- Blaker Girls LJ
0 comments